Carl Thompson's 917-037
November 11, 2003
Arriving a few weeks late, but here at last. This is a project that we were asked to help with because we have the molds and the know how to install a 917 body in 90 days or less. Carl Thompson,
ex-Vasek Polak Porsche head cheese, acquired all the Polak racing parts and set up a new shop in Long Beach, California. Carl and I go back 25 years, so this project is fun for Gunnar Racing to help out a buddy. Carl plans on taking 037 to the Porsche event at Daytona in April. You can go to Carl's site at www.pbase.com/917carl and see what Carl does at Carl Thompson, Inc. You will see the engine and transmission being built and the assembly after it returns from Gunnar Racing. In the photo on the right Jack and Mark are showing their strength in lifting the aluminum chassis with suspension attached (pretty light eh!).
This is an after hours and weekend project.
While I am making all the inner panels, the nose and tail are being made by my glass fabricator.
The art of making these parts myself is that I can keep them very thin. Carl wants this baby to be light. The fenders in the picture above are Gulf type (will accept 17" wheels).
The firewall and the engine cover are also kept very light.
These are the luggage trays that have to be installed behind the fenders (F.I.A. legal).
The fender is trimmed and the firewall has been trimmed and released from the mold. Instead of using white or neutral gel coat we use duratech, which keeps the part lighter. This surface is a great primer for the hand painted gray.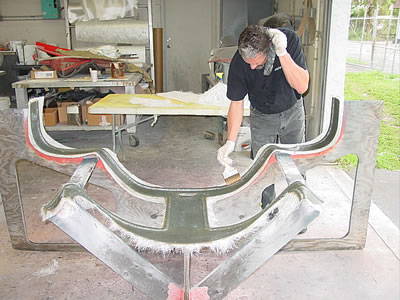 I am talking to Carl on the phone, telling him what a great job I am doing making the roof of 037.
After the engine cover is removed from the mold, it needs all the inlet openings cut in.
Jack is marking the holes and then will cut and grind them.
With the roof laminated, it's removed from the mold and the trimming starts.
First the edges are cut with a buzz saw, then hand sanded.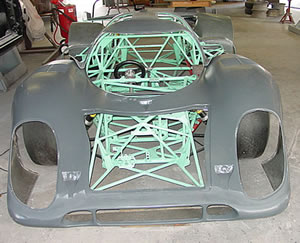 The new nose has arrived and is sitting on the chassis.
These are the luggage trays and the firewall ready for installation. Please note that the paint on this chassis was some professor's idea of a handsome display. This chassis was used at Porsche to show apprentice mechanics and engineers the direction of oil that is actually retained in the chassis rails themselves. Basically, 037 was used as a learning tool for the new guys, who today are probably the big shot engineers at Porsche.