917-037
December 1, 2003
Sometimes chicken salad, sometimes chicken s__t. I am referring to the roll bar on the left. Although, masterfully fabricated, it won't work in an original 917. Carl special ordered this roll bar out of Europe and I had to give him the good news...send it back. The problem is that the left down bar hits the injection pump. So, it's either the roll bar or the pump! The bar on the right is an original roll bar borrowed from our Gulf 917. The arrows point to the difference of where the two support bars meet each other. On the original bar, the left down bar is lower, which changes the angle. This allows clearance for the injection pump.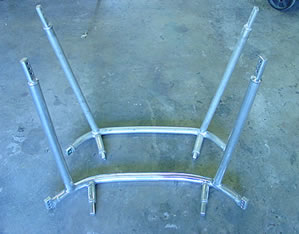 In this picture you can see the difference between the bars. Even the arch of the roll bar is different.
Left bar original, right bar not.
Ditto. The European bar might fit an altered 917, but not an original one.
We are making a new bar for 037. After the bar is bent, we put tape on it to protect it during the fabrication process.
We had to machine the ends. The picture on the right shows the Gulf bar against the new bar to check the radius.
The next four pictures show what we call safety tacos. It is a 3mm piece of aluminum bent in the shape of a taco, then it's welded in the corner where the roll bar attaches.
Porsche uses these tacos on the aluminum frames such as 908, 917 and 936.
Our new bar is welded and installed for final fit.
Oh man, it's 3:00 and 3:00 at Gunnar means Klondike break. um, um!
The dash is finished and ready to be installed.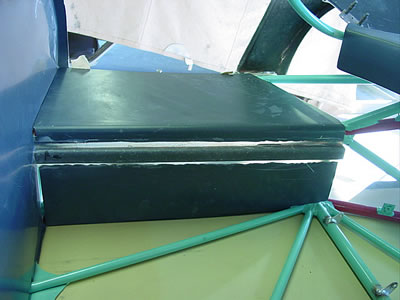 The left side doorsill is ready for the top section (this will be fitted when the body is glued to the car). You can also see the wire harness channel. Only the left side has this feature.
Don't forget to keep checking Carl's website at www.pbase.com/917carl
<<< Previous Update | Next Update >>>