917-037
February 9, 2004
There's no original mold for a Gulf window naca duct, so I make them out of a little piece of foam.
After I have made the part I trim the mold.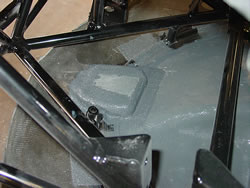 We've flipped the car upside down (again) and glued the just made duct in the car.
Everything inside is finished now. After the doors are operational, the inside fenders will be installed.
Both the lower control arm covers are installed. These will be attached to the fender wells.
Another shot of the bottom before the fender wells are glued in and a photo of the fitting of the windscreen. I use tape on the outside edge of the window. This protects the lens while the bodywork is being done around it.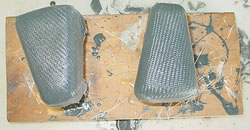 These are the two lower door hinge openings. They will be installed in the left and right door seals.
Here, Martin is fitting the driver's door. This is the worst part of any prototype restoration
(but Martin is doing a great job).
The N.O.S. Daytona window (Carl keeps shitting out new parts) and the gearshift cutout, which gives you room between the gearshift lever and the inside door seal. Without this part, your hand would hit the door seal in the top gears.
A pattern is made from the Daytona window to get a center line established, next it's mated to the center line on the roof, then the roof is marked and cut out.
One door operational. You can see in the picture on the right the hinge buckets that are now installed.