Porsche 917-01-021 Reconstruction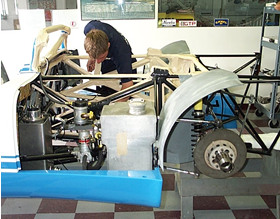 Update (11/14/00) - The motor is going in the 917 today. This car will make its debut at the HSR Daytona Historics in three weeks. All of the wiring has been installed and the suspension and brakes are on the car. Squeezing that big 12 cylinder motor into the engine bay is always a tight squeeze, with much care being taken to not scratch the frame. Here Andy, our new GT-1 specialist from England, readies the engine bay for the motor installation. 2" wide masking tape is put on the frame to act as a protective layer against scratches. You can also see the oil tank, and rear suspension in this photo.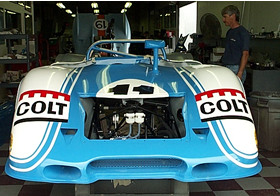 The brake reservoirs have been installed, as have the pedal cluster. Dave Schnorr has already applied most of the decals, with exception of the silver foil which will go over the numbers. Behind, you can see the tail of the Gulf 917 which finished second at Le Mans in 1971. A new fuel cell is being made so the car can make an appearance at Daytona Historics.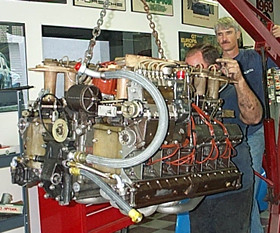 The 5.4 liter, 12 cylinder, air cooled 917 motor just prior to installation. The larger capacity (as the endurance motors were either 4.5, or 4.9 liters in capacity) was due to the fact that it was an unlimited Can Am car (the European Interseries Championship was their version of Can Am).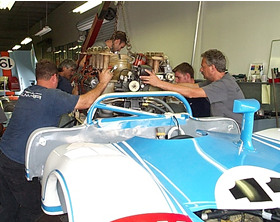 The entire Gunnar Racing team installing the engine into the 917.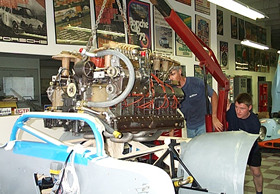 Slowly and carefully the motor is lowered into the aluminum chassis.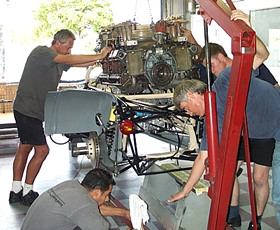 The view from the back.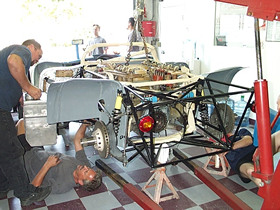 The finished installation. The engine hoist will be removed once the transmission is installed. Only three bolts hold the entire engine/gearbox unit to the car - a 14mm bolt up front and two 10mm bolts on the transmission. Porsche did a real engineering feat, holding over 500HP (not to mention over 1000HP in the 917/30) in one place, with just three bolts.