Porsche 917-01-021 Reconstruction
Update (09/27/00) - As the body gets closer to being ready to paint, some of the previos flaws are found, and repaired. The passenger door, which includes a toneau cover, turned out to be almost one inch thick, (it was predominately fiberglass resin). All of the resin was ground away, and a thin layer of new fiberglass will be applied. This will make it much lighter than before. There were other places in the body that were similar, and they are also being repaired.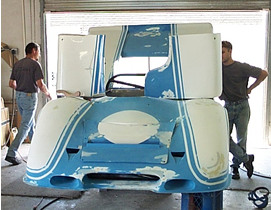 The spyder, getting nearer to receiving final paint.