962.com and Gunnar Racing
Sebring International Speedway
50th Anniversary 03/11-03/16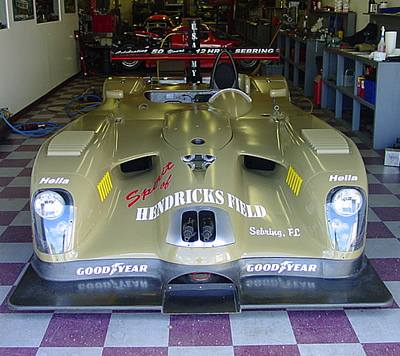 Here is the newly painted Panoz before she leaves the shop.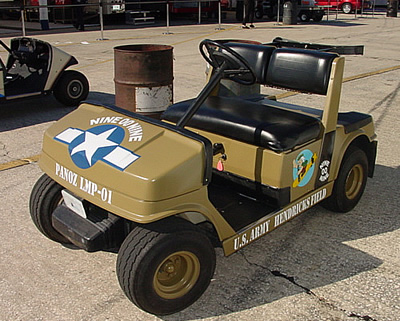 Not only did the car get a facelift, so did the pit cart.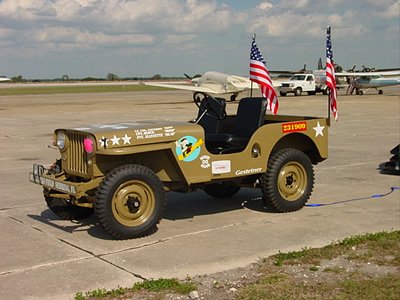 For a one week restoration she sure looks like an American Beauty.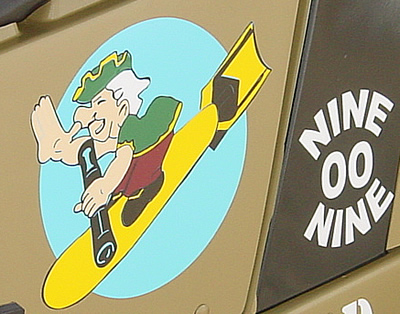 This is the logo that was used in World War II on the B-17. We recreated the logo with a few changes, such as adding a few bombs to drop on Bin Laden.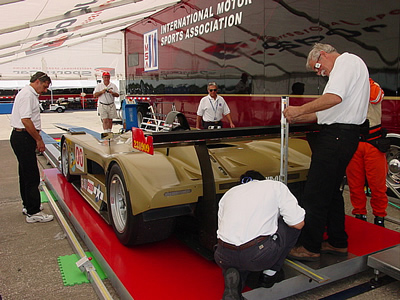 The car is going through tech with out incident.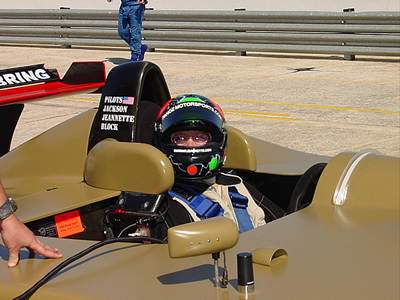 Gunnar hopped in the car for the first practice in the B-17 look alike.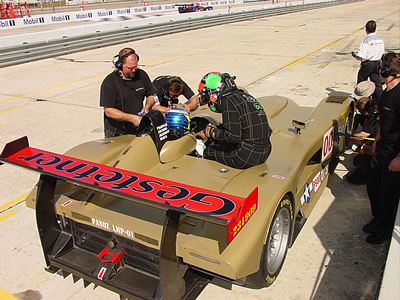 Car owner, Wayne Jackson, is getting in the cockpit with the help of Gunnar.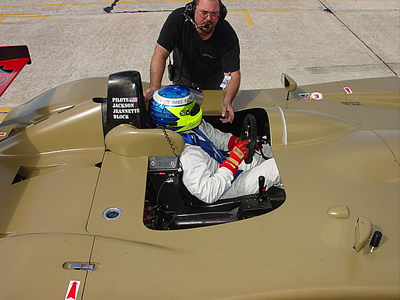 Martin is making sure that Wayne is all strapped in and ready to go.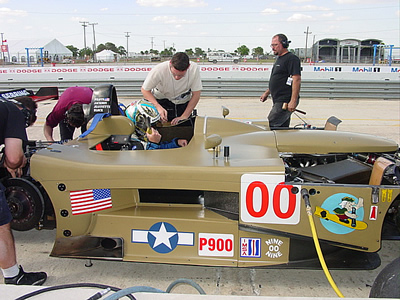 Chad Block is now in the car about to take his very first spin in this LMP-900.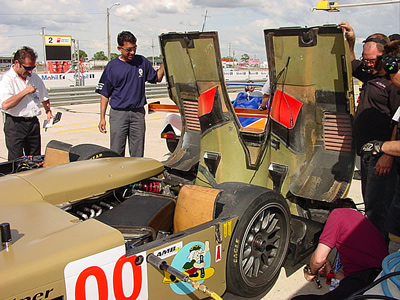 After a hard day of practice the car is coming in for some adjustments. On loan from Panoz, Sirish Vissa, became a major asset to our team. Thank you!!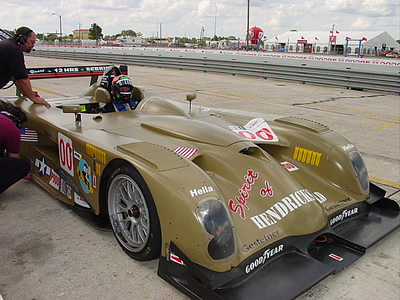 Day two of practice and Gunnar is ready to dominate the road.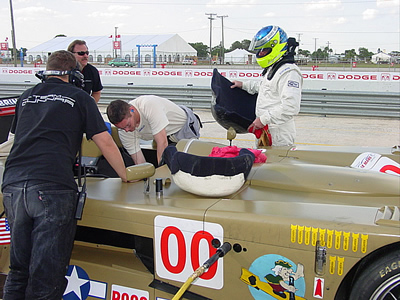 Here you can see that there are many things involved in a driver change, such as the exchanging of seats.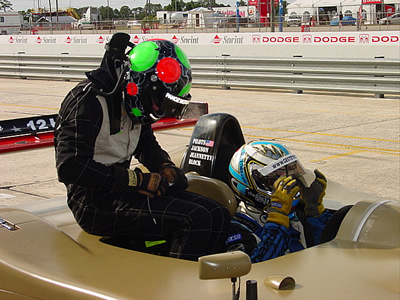 Gunnar plugs Chad in and he is ready to run the rest of practice, or at least until he runs out of gas.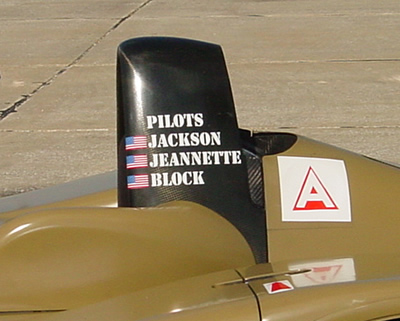 It seemed only fitting to have an all American driving team.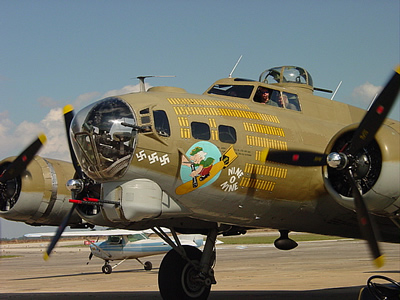 What other tricks could Kevin Jeannette possibly have up his sleeve? Can you believe this a B-17 bomber? Kevin you have outdone yourself.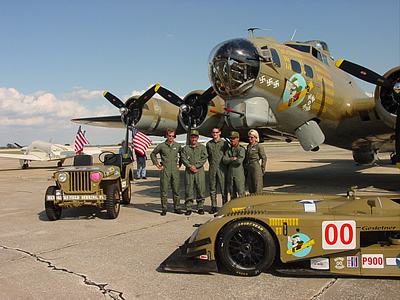 The crew of the B-17 bomber including the Panoz drivers. Gunnar was behind the controls during the flight to Sebring and during the fly over the raceway.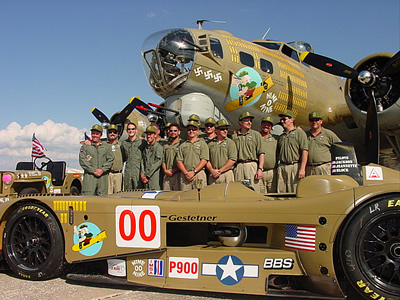 From left to right: Wayne, Kevin, Gunnar, Chad, Danny, Tyson, Andy, Eli, Ike, Mark S., Martin, Mark B., and Jack. Thanks to all of our guys who put in countless hours, you did great job!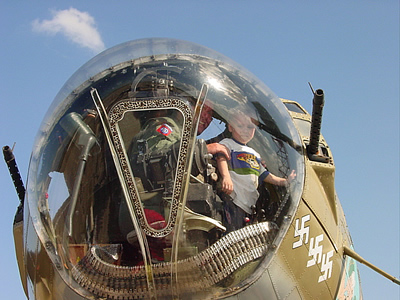 Wayne Jackson and his son Nicholas get in the B-17 and wave at the crowd.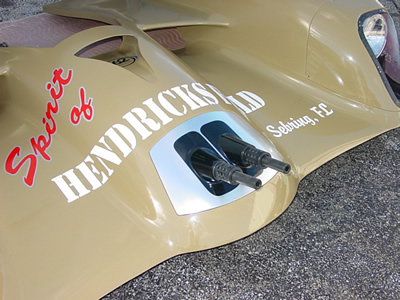 Here it is our secret weapon, we installed machine guns to ward off the competition.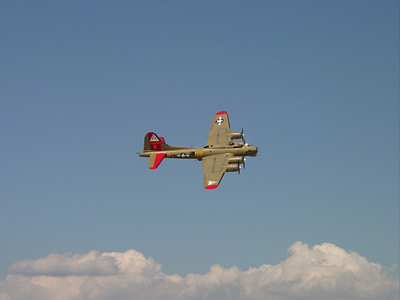 Before the race the B-17 did one last fly by. Six hours and fifteen minutes into the race we had to call it quits. The carbon roters were coming apart and the hardware was not holding up. We had continuous brake problems and for safety reasons we decided there was no need to continue.
<< Previous Update | Next Update >>