917-031
December 7, 2010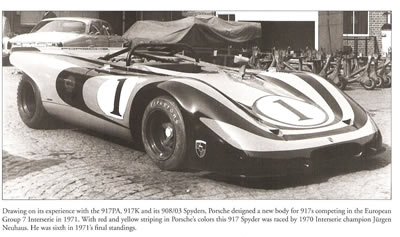 This is what she looked like in the beginning.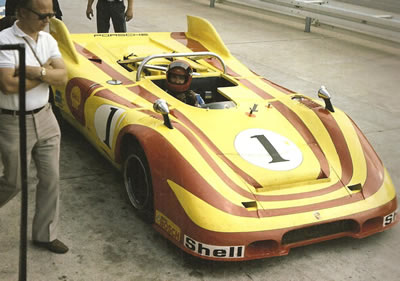 This is what she evolved into while Jurgen Neuhaus was racing her in the Interseries. The Interseries was the European equivalent to our Can Am series here in America.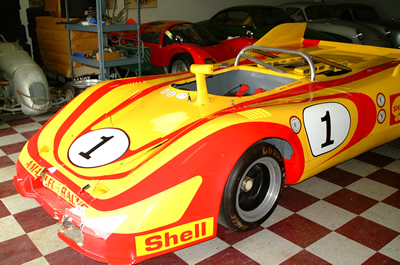 Mike Amalfitano (who owned the car for many years) raced historically and showed this really sweet 917. The car originally began life as a Gulf Coupe and was raced by Porsche's John Wyer Team. The car was crashed at Le Mans by Mike Hailwood and then the car was send back to Porsche and made into a Spyder. There were actually only two purpose built 917 Spyders for the 1969 and '70 season. They were 917-027 and 917-028. Porsche has 917-027, which is the 16 cylinder car at the museum and 028 was restored by yours truly and sits in the Collier museum today. This car (028) is referred to as the PA Spyder, which stands for Porsche Audi. Some people think PA stands for Porsche America, but NOOOO!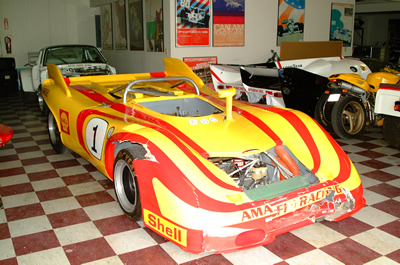 The reason the car is here is because someone forgot to tie it down during transportation. It wiped out the back of a 908 Spyder, which also wasn't tied down. Oops.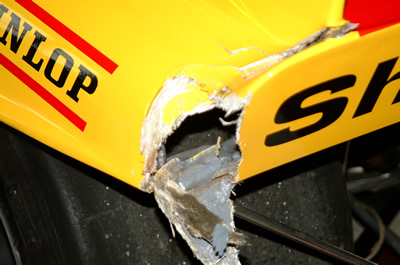 It got hit front and rear by all kinds of cars that weren't tied down. Oops times a million.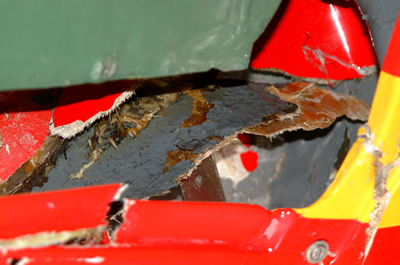 Actually, five of Michael's cars were included in the Great Non-Tie Down of 2006.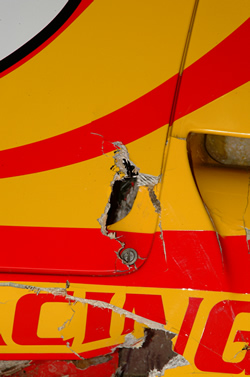 The damage was pretty extensive on the outside.....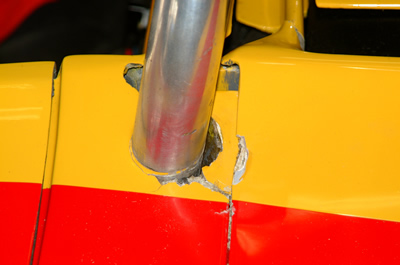 .....But catastrophic on the inside. It really tweaked the chassis!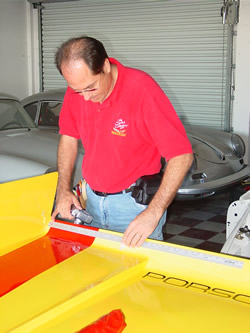 So while we're about to take the car apart we bring our good pal Dave Schnorr (the best racecar graphics guy living) over to reverse engineer everything that's on the car in the way of graphics, logos, stickers, blah, blah, blah. This way when we put the car back together Dave can pinpoint where I need to apply the stripes and of course all the graphics. I tried to talk Mike into converting the car back to a coupe while it was completely apart, but Mike said no because he enjoyed the history of the Spyder. Later, I talked Mike into building a full sized model of the
Le Mans Hobbs, Hailwood 917. We'll show you pictures of this car later in this story.