917-037
February 23, 2004
When assembling a Porsche prototype, you are constantly fitting parts to make sure they will fit after the body is attached (always close tolerances).
Everybody is doing the last of the glass work (suspension pickup openings).
Now I am making the panel that separates the fender from the side pod where the fuel tanks are housed.
All the pickups are now sealed up, the fender brace is installed, and we are getting ready for the first coat of paint.
Notice the big slot for the stabilizer bar. The other side is small because the bar goes in on this side. This is covered with a fiberglass panel after the bar is installed.
I am applying the first layer of resin for the driver's side fender panel. Gray pigment is important in the wheel wells because the rock chips always stay gray.
The panels are both finished. Now Andy and Martin are fitting brake ducts in the tail.
After the panel is made, cleco clamps index the mounting holes. While the car is still upside down, the door seal straps are being applied.
Andy is attaching the panel to the chassis. This makes the door sills very strong.
Jack is masking off the firewall because we are repainting the back of the chassis due to a Gulf modification.
Chris, the transport driver, has been waiting a few days to deliver the car to Carl. Chris was early and we were late. Because of this, what you see in the photos is called a gang bang. This picture was taken Saturday - noon.
Saturday at 7pm, the car was primed. In this photo, Andy and Martin are making sure the brake ducts are indexed to the chassis when the tail is closed.
Quick coat of urethane gray on the bottom. Note the four holes on the left...these are for the 6mm bolts that mount the bottom of the oil cooler.
All that hard work, then you just cover it up with gray paint...but boy, does it look good after.
Final sanding for primer and headlight buckets are in final paint (satin black).
Martin and Andy are removing the tail after I have sized all the seams.
Everybody goes home except me.
Between the last photo and these shots, I primed the car 7:30pm Saturday, returned at 12am Sunday, sanded the primer (which took 4 hours), had the car in final paint by 4:30am. The boys showed up at 7am Sunday to reinstall the suspension, and paint the cockpit dark gray.
Andy, Jack, and Gunnar did the painting honors. At 4pm, the car was dry enough to put into the trailer and head for Long Beach, CA.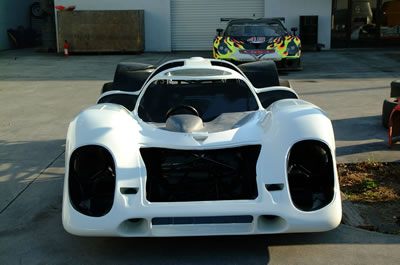 This is kind of cool shot with our Daytona Prototype in the background (Fabcar Porsche).
This is the last time we'll see the car until Andy and I fly to California to help Carl put the finishing touches on the bodywork.
Don't forget to keep checking Carl's website at www.pbase.com/917carl