Porsche 917-01-021 Reconstruction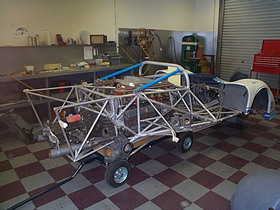 Background - This renumbered spyder is the only 917 having an "01" designation in its chassis number. With this number, 917-01-021, it won the European Interseries Championship (European Can Am) in 1971, with Leo Kinnunen driving for the Finnish AAW team. The car remained in this form until it was purchased by Bob Rapp in 1999. It was known that the car had previously been a Coupe, with a chance of it having been an ex-Gulf/Wyer car. After thoroughly stripping the chassis to bare metal, and under careful inspection, the electrical cut off switch brackets were found on the rear chassis tubes. This switch location was unique to Gulf/Wyer cars. Upon research, some of the missing 917 chassis numbers were 003, 009, and 015. The facts pointed to this being 917-015, and the process began to turn it back into the 917K that won the Daytona 24-hour race in 1970, driven by Pedro Rodriguez and Leo Kinnunen (race #2). It's interesting that Kinnunen won the Interseries Championship in a spyder manufactured from the chassis that won Daytona the previous year.
Kevin and Bob Rapp felt that 917-01-021 (the spyder), which was very historic, should not be lost forever. A new chassis was constructed, using the original roll bar and rear section of the chassis. All of the original suspension, engine, gearbox and bodywork from the spyder will be reinstalled on the 90% new chassis. At this point, the job is already about 30% completed.