June 7, 2011
Article as provided by Speedtv.com
IN THE COCKPIT: Gunnar Jeannette, Staying Busy During ALMS Break
CORE autosport's Gunnar Jeannette files his first SPEED.com "In the Cockpit" column
during the break between Rounds 2 and 3 of the American Le Mans Series...
Gunnar Jeannette | Posted June 06, 2011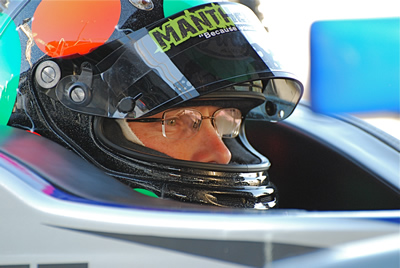 We have had a great start to the year at CORE autosport to be 1-2 in the LMPC championship after two races. Last year I finished second in the LMPC points. More or less my chance of winning the championship ended while leading at Petit when we had a steering rack issue. We were tied for the points lead at that point. That was very disappointing but last year we came away with about half the race wins which was obviously very nice.

Our championship assault for 2011 really kicked into high gear with our win at Long Beach with my teammate Ricardo Gonzalez. I am now very much looking forward to more poles and more wins with CORE autosport. To give CORE its first victory in the American Le Mans Series at Long Beach was a pretty special thing. I'm ecstatic about being a part of the program with CORE's owner Jon Bennett and our team manager Morgan Brady.

It all sort of started coming together pretty late in the off-season. Ricardo and myself had already been talking about driving together and then with Frankie Montecalvo we were trying to find a spot where we could all land together. Frankie and I drove the Mustang in the Continental Tires Series for Multimatic last year and I have been mentoring him since he started racing in 2009.

Jon Bennett was very open to the idea. He thought it made sense and CORE autosport has become home for all of us. From what the team started out as in the middle of last year, to what Jon and Morgan together have accomplished already is really impressive. There are some pretty lofty goals but at the same time we're taking it step by step, which is absolutely the right approach. You see so many people in motorsports come in and spend a ton of money, hang around for a year or two and then disappear.

This isn't one of those kinds of deals. We're very much looking at being involved in the series long term and I think we are doing all of the necessary steps to make that happen.I think the next step for the team is to challenge for the LMPC Championship title this year. I am really excited to be a part of this program at the start because there is a great opportunity to grow with the team.

I'm still pretty young as a sports car driver at 29, but I've been doing this for quite a long time already. It's a lot of fun for me to be involved in a program like this as well because I get to take from all that experience I've had from different teams like Panoz and Multimatic and help shape what this team wants to become. I've competed at Le Mans several times and want to be with CORE when they race at the French classic for the first time.

It's especially great to see the whole effort change and evolve into a world class team. We've started at the ground level and with every race you can see everybody gelling together more and more. Our goal is to have it transform into a championship-winning effort hopefully by October!

After Long Beach we have a bit of a break in the ALMS calendar so it has been full on into training for me. Frankie Montecalvo has been a bit of a protégé for me over the past couple of years and he's been out here living with me in Utah. We've been training a bunch, riding mountain bikes, go-karting and working at Miller Motorsports Park as coaches and driving instructors.

We're also involved with the Ford Boss program that is going on out here in Utah. We drove and helped develop the Ford Mustang Boss 302R together last year and Ford's doing a program where any new owner of a Boss 302 street car can come out to Miller Motorsports Park and get a day in a Boss on the race track. We instruct them about the features of their car and show them how to drive it a little bit better.

Of course I have also been chasing my usual hobbies of skydiving and base-jumping – yeah, I like to jump out of and off of tall things! I'd always wanted to skydive since I was a kid, especially from the Point Break movie. It definitely instilled the bug in me. So on my 18th birthday I went up and did my first tandem jump.

I got into it pretty heavily and I've been pretty fortunate to take part in a couple of world records in skydiving, which are ridiculously cool. Over the last few years I've done around 1,500 sky dives and about 150 base jumps. I've also gotten into some wing suit base-jumping over in Europe in the Alps in places like France and Switzerland and also some of the Fjords in Norway.

That stuff is really absolutely incredible. It's the closest thing to real human flight at least for the moment. There's nothing like hurling yourself off of a mountaintop for a little stress reliever after a race weekend. But for now… back to the training. Stay tuned.

Gunnar

Entering his 10th season of ALMS action despite the fact he is only 29 years old, Gunnar Jeannette is leading the charge in the LMPC class for the new Charlotte-based team owned by Jon Bennett.

He became the youngest driver in history to finish Le Mans at aged 18 and has contested the race seven times. Not content with the life of an international racing driver - away from the track Jeannette can be seen jumping out of planes and off the top of mountains to feed his skydiving and base jumping addiction.