February 17, 2001
Article as Provided by SPEED
ALMS: Introducing CORE Autosport
While it may not yet be a familiar name to the sportscar racing world, the star power behind this new LMPC effort and the their future ambitions will likely have many people taking notice...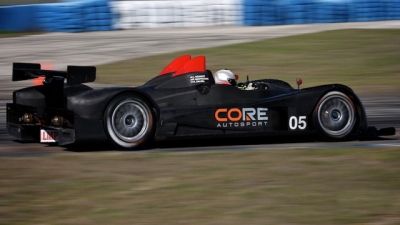 Photo: John Dagys
When the American Le Mans Series introduced two new season-long categories, LMPC and GTC, for 2010, it was in the hope not only to boost car counts but also offer teams and drivers a platform to climb the sportscar racing ladder.

While inaugural LMPC champions Level 5 Motorsports made the step up to LMP2 and Paul Miller Racing has moved from GTC to GT this year, there's been another graduate coming from IMSA's prototype development ranks that's looking to make full use of the ladder in the years to come.
Not many may have heard of CORE Autosport prior to the team's announcement last November that it would enter the LMPC category for 2011. But for team owner Jonathan Bennet, that's understandable, having only formed the organization less than a year ago.

Bennett, a longtime SCCA racer and owner of Composite Resources, a South Carolina-based manufacturing firm, had ambitions of one day competing in top-tier sportscar racing. The 45-year-old businessman purchased an IMSA Lites car in late 2009, with the intention of it being part of a three-car effort run by Inspire Motorsports last year. But it soon became clear that Bennett wanted to take his program to the next level.

"I told my wife that it's a shame that I finally got to the point where I could afford to compete at this level, but the team I'm working with is not prepared to go where I want to go," Bennett explains. "She made the mistake of saying, 'You're one of their best customers. You should have a equity stake or a say in how things are done.'"

Bennett did just that. Having purchased the rights to the team's three-car operation, the newly renamed CORE Autosport operation went out and won the IMSA Lites teams' and drivers' titles in dominating fashion. But the success achieved last year only proved to be the first step, as Bennett's long-term plan was to move the operation into the ALMS.

"As we were discussing where we wanted to take the team, I really had an interest in going into LMP2," he says. "We were having some conversations with the folks at Lola and Riley Technologies. But [team manager] Morgan [Brady], who spent quite a bit of time in Atlantics and knows what it takes to run a program at this level, suggested that LMP2 might be too big of a step from IMSA Lites and that the LMPC class would be a better interim step."

The pieces started falling into place late last year, when the Morgan Brady-led operation purchased Level 5's complete championship-winning LMPC package, including two Oreca FLM09s, spares and setup information. Burke Harrison was hired as the team's engineer while Mike Sales, formerly of Fernandez Racing, was brought in as crew chief.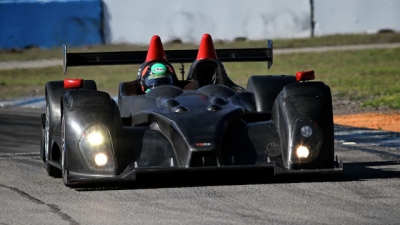 Photo: John Dagys
While team's first test at Carolina Motorsports Park gave reason for optimism, perhaps the biggest coup came last month after receiving a call from Gunnar Jeannette. After failing to come up with the resources for a LMP2 program with his family-run outfit, Jeannette, Gunnar Racing engineer Mark Shomann and drivers Ricardo Gonzalez and Frankie Montecalvo had struck a deal to join forces with CORE.

All of a sudden, Bennett's season outlook changed dramatically. CORE had expanded to a two-car operation overnight and instantly became championship contenders, thanks to the recent addition of key players behind the wheel and turning the wrenches.

"Four or five months ago, I would have said the goal was just getting to the track in some fashion," Bennett says. "I wasn't really thinking about being competitive because I was alone and I had two race cars. I was looking at the prospect of my co-driver being hired and not necessarily bringing in funds to the company. That's changed.

"Not only do we now have funded drivers, but we have quick funded drivers. Financially, we're in good shape and we're going to be competitive. You get a little bit greedy. That's what's in race driver's DNA; It's never enough... Now that we've had to chance to look at what we look like, especially compared to the competition, we're going to be a competitive team right out of the box. I'm very lucky and fortunate."
While it was never Bennett's master plan, CORE has effectively taken the knowledge of the two top teams from last year, Level 5 and Gunnar Racing, and have merged it into a new operation. It could make for an unstoppable program, especially with last year's LMPC runner-up, Jeannette, leading the driver charge.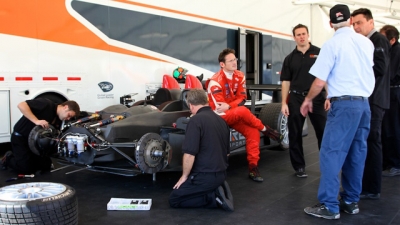 Photo: John Dagys
"It's really cool to come to an organization like this, where it's their first real year," Jeannette says. "They ran last year in Lites, and this effort should be the poster-child of what IMSA is trying to do. Jon raced a bunch of different classes in SCCA, got to IMSA Lites and always wanted to race in the ALMS and Le Mans.

"To be here with some of our knowledge from last year and the group of people we're here with, is just super cool. I'm really looking forward to what we're going to do this year."

Jeannette's co-driver Gonzalez is equally excited for the season ahead. After completing a partial year at the wheel of the PR1/Mathiasen Motorsports Oreca FLM09, Gonzalez has been impressed with the strength of his new team.

"I feel that just the name of the team is new, because once you get to know everybody involved... most of them have had 10 or 20 years experience in the business," Gonzalez says. "I was a little bit nervous with what I was going to find, but once I got to know the people and see their history in racing, I was very impressed. We had a good first test and the setup of the car was great."

With Rudy Junco Jr. joining Jeannette and Gonzalez in the No. 06 car for Sebring, and open-wheel and sportscar standout Ryan Dalziel completing the lineup in the sister entry led by full-season drivers Bennett and Montecalvo, there's no doubt CORE boasts some of the most talented drivers in the paddock.

But for Bennett, that's credit to the hard work and determination put in during the past year. He's taken pride in the presentation and work ethic of his organization, which he feels helped break the stereotype of many 'arrive and drive' teams in the development ranks.

"I have a philosophy that I've learned from my manufacturing company. If you do a quality job day in and day out, you're not always rewarded [immediately]. But over time, it will come back," he says.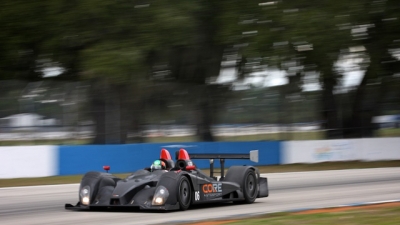 Photo: John Dagys
"Our job right now is to get to Sebring in a couple of weeks. Independent of the results, we'll leave the event knowing that we showed up, were organized and had properly prepared cars, great drivers and did the very best we could. I think putting too much emphasis on the results could take the wind out of ourselves."

Whatever may be in store for the team's ALMS debut next month, Bennett hasn't lost sight of his vision for the future. With a move up to the LMP2 ranks in the picture, plus a campaign at the 24 Hours of Le Mans within the next three years, he's confident that 2011 will only be the first of many chapters to come in the history of CORE Autosport.

"I think that Ricardo, Gunnar and everyone is interested in what the next step could be," Bennett says. "That would be LMP2 and potentially a trip across the ocean. I think if we do a good job, this group of people will stick around for a number of years and we can build something that's strong and long lasting.

"I've joked with Morgan that I'd like to be the next Dyson Racing or the next Flying Lizard. This is nothing I'm planning to do for a season or two and get out and go do something else. I'd like to have this team and company winning successfully for the next ten or 15 years."